Hello Everyone;
This post will encompass this particular painting. "Am I Not Merciful" is an original 16" X 20"oil painting painted on a triple primed stretched linen canvas. The name of this painting, for some reason came sooner to me than others normally do. The way the mountains progressed just made the name obvious. The way the mountains seem to keep the other natural elements in line is what gives credence to them.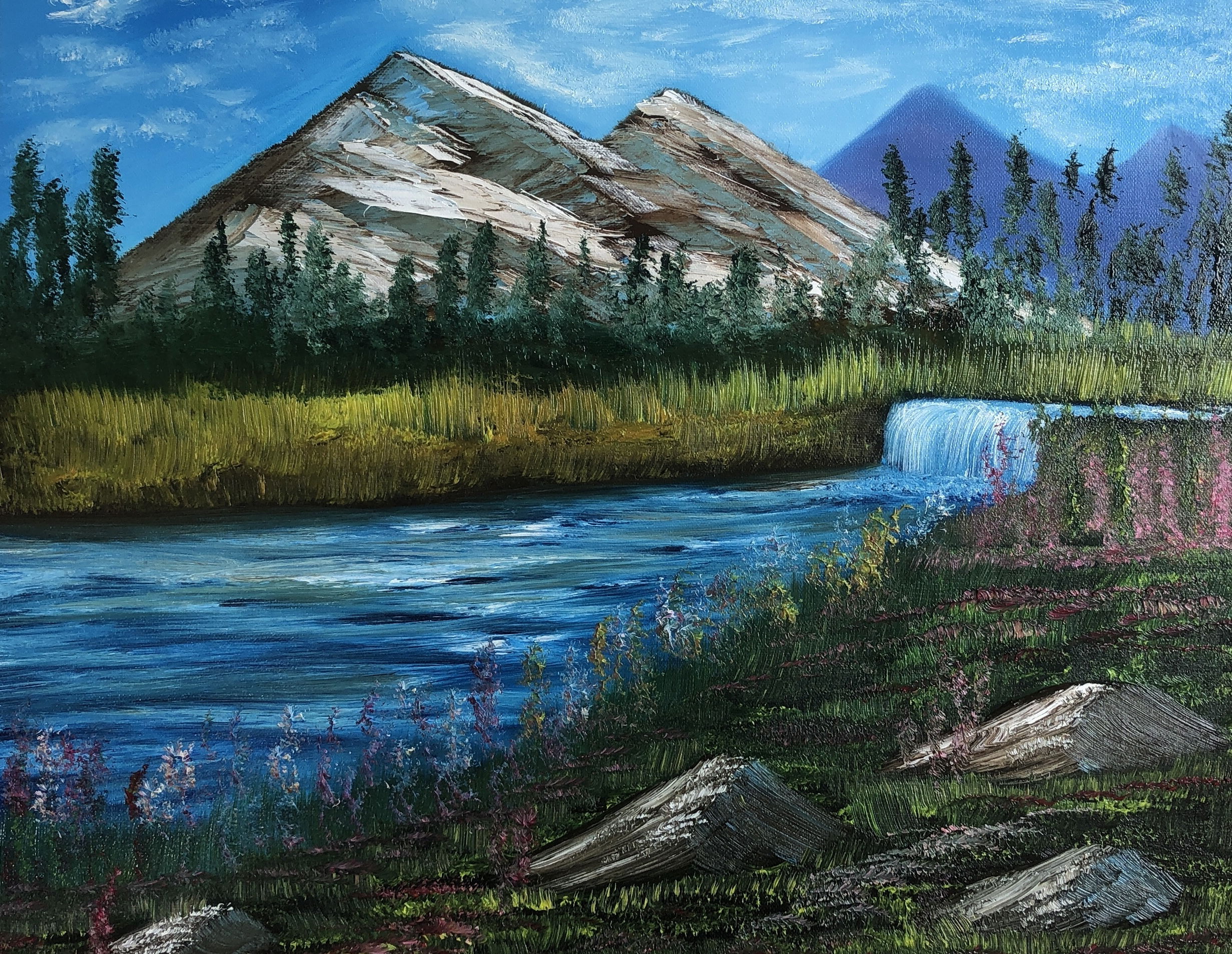 I used the pallet knife for the mountains to give them a little more rough texture. A texture that evokes a physical presence that would make them the alpha dog in the composition. I realize I am being a bit dramatic with the way I am describing this, but truth be told, I think about these types of things as I paint with every landscape.
Each painting has its own aura and personality, I guess. As each composition evolves, it speaks to me in a non verbal method to tell me how I need to proceed. Most of my paintings do not have a plan in place when I start them. I start with an eagerness to paint something, I put out some of my favorite colors onto my pallet and I begin to make marks on the canvas. The painting evolves as I go. I really don't know how popular this style of painting is, but I do know it is fun, it is nerve racking and it is very satisfying when complete.
For my entire life, I was never able to draw a straight line. I could never color within the lines of my coloring books as a child and I never had the patience to use a ruler or anything else to get a perfect anything. When I first started painting landscape, I noticed that there is nothing in nature that is straight, or perfect or in perfect alignment with anything else. It is perfectly beautiful chaos. That style fits my personality perfectly.
I love the random colors and textures of the natural world. I love the fact that what we would call weeds in our front lawn make for a beautiful landscape composition next to a moving stream. I paint what and how I feel and I allow the painting to grow by itself. I try to never get in the way of what the painting wants to accomplish. The painting seemingly was always there, I just needed to apply some colors, some touch and some passion to bring it out.
Have A Blessed Day my friends